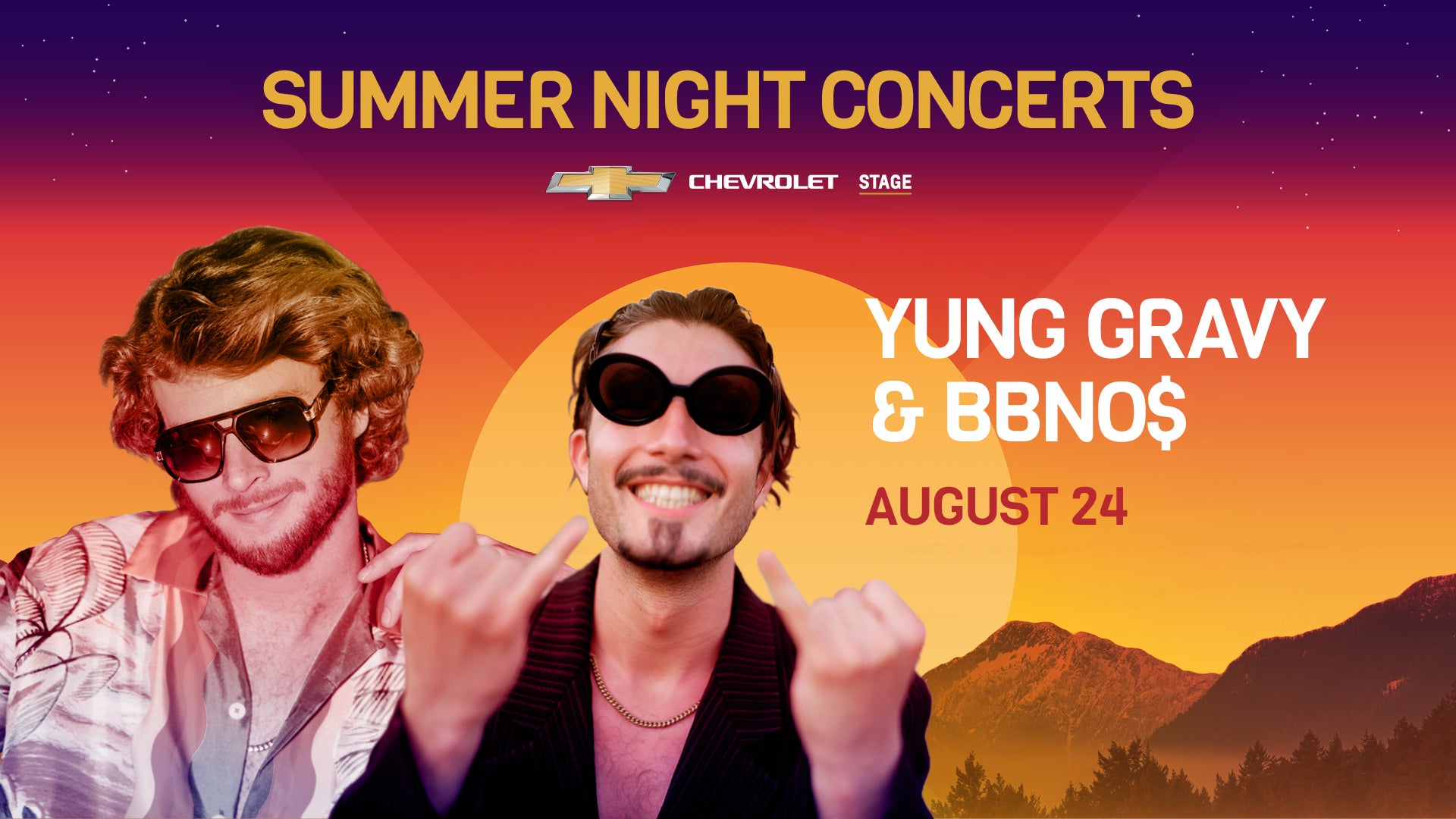 Yung Gravy & bbno$
Yung Gravy & bbno$
Event Details
Yung Gravy
Only the best things get better with age -- wine, cheddar, 401ks, the list goes on. It turns out Yung Gravy gets better with age too.
When you think about it, the name Yung Gravy says a great deal. It's perpetually youthful, and it oozes "sauce." As such, Yung Gravy uses his own special recipe to bring originality and positivity to make his one-of-a-kind impact on the genre. Gravy flexes his passion for soul music and oldies in his production, sampling a wide range of musical styles dating from the 1940's to the present-day. Nostalgic and often-jubilant melodies paired with heavy trap drums form the usual canvas for his signature baritone voice -- reminiscent of Barry White. Showcasing effortless flows and endlessly quotable lyrics, Yung Gravy paints something truly unique while clearly having a good time doing so. In the span of six short years, Gravy has transformed from Soundcloud stalwart to platinum powerhouse. To date, his accolades include three platinum and four gold singles as well as 10 sold out tours of North America, Europe, and Australia. He has collaborated with his self-proclaimed musical heroes, including Lil Wayne, Chief Keef, Juicy J, T-Pain, and the late Young Dolph. Gravy became the soundtrack, and unofficial second mascot, of the Tampa Bay Lightning, and was given an honorary Stanley Cup Ring. He starred in a worldwide commercial campaign with Martha Stewart, and weeks later performed for the VMAs and Jimmy Kimmel Live. Not to mention, he partnered with Samsung and Jimmy John's for campaigns. Tallying 6 billion streams and selling 5 million units thus far, he's notched four entries on the Billboard 200, two in the Top 30 of the Top R&B/Hip-Hop Albums Chart, and two on the Top 20 of the Top Album Sales Chart. He'll hit the stage at Bottlerock and Hangout Music Festival in 2023.
For all of the swagger and style he exhibited upon his arrival, he managed to become even smoother since his introduction in 2016. After streams in the billions, packed venues, and "side missions" with Martha Stewart, he stirred up his tastiest sauce yet on his 2022 third full-length opus, Marvelous [Republic Records] introduced by the chart-topping platinum-certified Billboard Hot 100 Top 30 single "Betty (Get Money)."
https://www.facebook.com/yunggravy/
bbno$
bbno$'s life changed forever in 2019 on the day he walked across the stage to receive his college diploma. To be clear, graduating didn't do anything for him. On that day, he released "Lalala," a cheeky earworm of a rap single that nicely encapsulated his "ignorant but melodic" approach to hip hop and erupted on a global scale. To date, "Lalala" has racked up over 800 million streams worldwide, and bbno$'s extensive catalog of music has amassed over 2,000,000,000 (yes, two billion) streams.
"I would say that I'm pretty stoked on life 24/7," says bbno$ (pronounced "baby no money"). His baseline enthusiasm spills out into his music, his colorful music videos, as well as his growing online identity as a gamer under the moniker bbnogames. His raps place an emphasis on creative melodies, humor, and mischievous wordplay, and his philosophy of avoiding overthinking at all costs allows his true personality to shine through. bbno$ is a renaissance man in the age of the internet, and his career, a story of both virality and sheer persistence, is just getting started.
Additional Ticket Information
Reserved tickets are required for all shows.
PNE Fair admission also required.