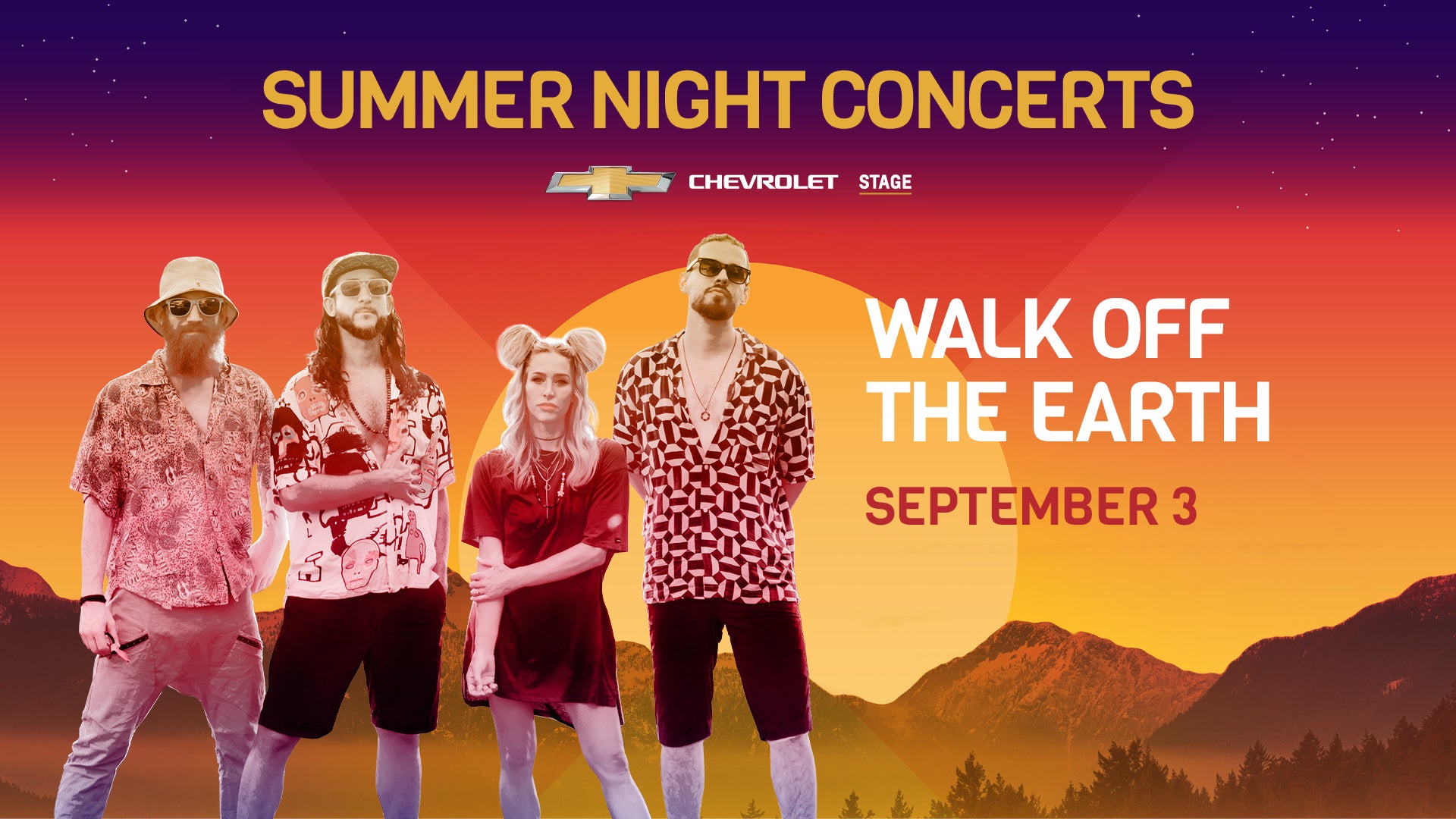 Walk off the Earth
Walk off the Earth
Event Details
Walk off the Earth is a Juno Award-winning multi-platinum musical phenomenon from the Toronto area that was thrust onto the international stage in 2012 and continues to take the world by storm. In the past couple of years alone they've headlined the famed Red Rocks Amphitheater and Wembley Arena, sold out the historic Sydney Opera House, notched a top-10 single in Canada for 30 straight weeks, and made it all the way to the top of the Pop Album chart in the United States. They have collaborated with a wide variety of top-tier artists ranging from the likes of Snoop Dogg and Sarah Silverman to Keith Urban and Steve Aoki, selling millions of copies of their recordings and notching billions of online views along the way. WOTE also has an extensive resume of brand collaborations that includes (but is not limited to) Volkswagen, Pepsi, Lays, Nissan, Velcro, Polk Audio, the NHL, and Discount Tire. On the corporate performance side, past clients include Google, Sony, Sysco, CloudFlare, Hootsuite, Okta, YouTube, and ING Direct to name a few.
Since the group's inception, WOTE has continued to push the boundaries of what an artist can and can't do. Their YouTube covers have won them Streamy awards (the highest accolade in the online space), their renditions of the national anthem have been performed at major sporting events like IIHF World Juniors and the NBA Finals (complete with glowing reviews from Toronto Raptors players), they've appeared on The Ellen Degeneres Show and Good Morning America multiple times and their original songs have earned numerous high-profile accolades ("Red Hands" achieved #1 at AAA radio while "Rule The World", "Fire In My Soul" & "I'll Be There" have all achieved multi-platinum certification).
In late 2018, the group faced a sudden and unexpected loss with the passing of band member Mike "Beard Guy" Taylor. Mike's inimitable spirit and incredible ability behind the keys gave the band a sturdy foundation on which to create and inspire that will be sorely missed. In the wake of his passing and after much difficult consideration, the band decided to move forward in Mike's honor and continue to spread the incredible legacy that he left behind.
In 2019 the band hunkered down in their home studio in Ontario and wrote what would become their 7th studio album "HERE WE GO!". Released via Sony/The Orchard in October of the same year, the album debuted at #1 on the US Pop Album chart and at #3 on Canada's Top Album chart while also climbing to the #5 slot on Billboard's Top Album chart. The album's lead single "I'll Be There" saw great success at AAA radio peaking at #10 in Canada and #25 in the US.
Forced to remain at home for the bulk of 2020 due to the COVID-19 pandemic, WOTE decided to make the most of the opportunity and was able to churn out a record amount of new content. 2021 stands to be another banner year with the release of their 8th studio album "Meet You There" spearheaded by the lead single "Love You Right" featuring Danish superstar Lukas Graham. The band followed up their album release with single "Hold On To Your Love" featuring American Singer - Songwriter Phillip Phillips. Performances at Toronto's legendary Budweiser Stage and Napa Valley's BottleRock festival are on the horizon as the world begins to reopen, and the group has recently commenced production of an animated show titled "WOTE In Space: The Infinite Tour" that is set to arrive on a major streaming platform as early as next year.
Walk off the Earth recently released their first single of 2022. The band recruited two-time GRAMMY-nominated artist, philanthropist, and entrepreneur D Smoke for their latest anthem, "Bet On Me".
The chemistry between band members Gianni, Sarah, and Joel continues to be infectious and undeniable. Joel's driving and prolific percussion work and Gianni and Sarah's remarkable vocal talents continue to exhilarate fans all across the globe, with new fans (affectionately known as "WOTE-lings") coming on board every day. Their independent spirit, unstoppable work ethic, and awe-inspiring creativity have consistently catapulted Walk Off the Earth to new heights and the future looks brighter than ever.
Additional Ticket Information
Fan Club Pre-Sale is May 24 at 10AM
Reserved tickets are required for all shows.
PNE Fair admission also required.