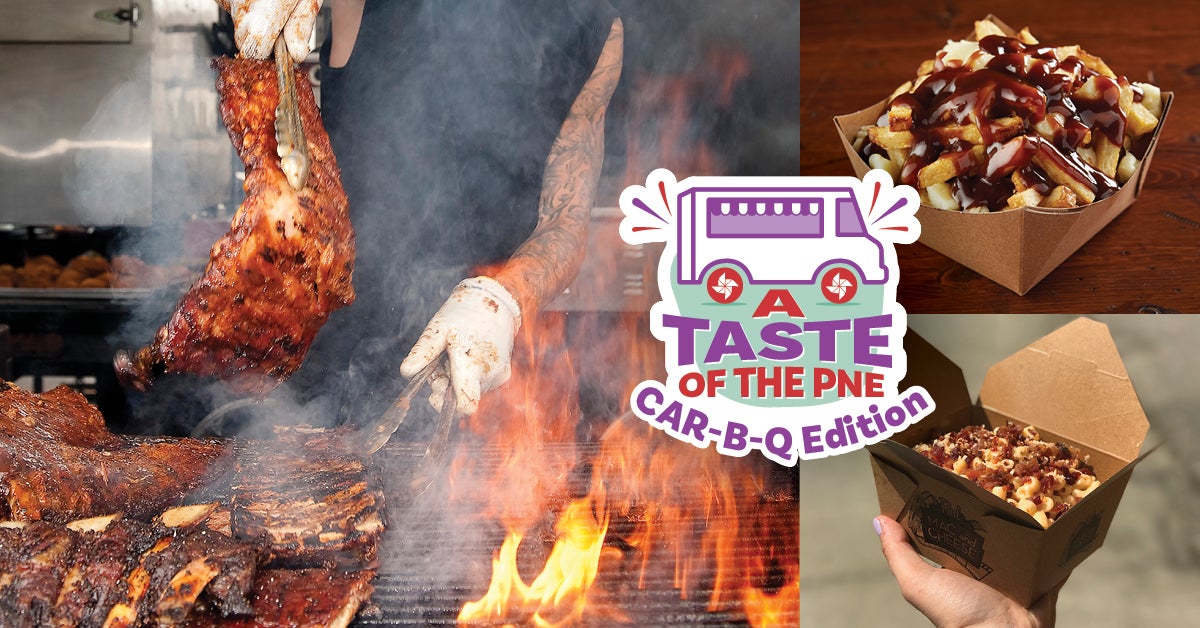 A Taste of the PNE: CAR-B-Q Edition
A Taste of the PNE: CAR-B-Q Edition
Event Details
Extended for an additional weekend! Enjoy *A Taste of the PNE: CAR-B-Q Edition* at this latest drive-thru event featuring options for a mouth-watering meal.
With your purchase, you are supporting local, Canadian-owned businesses. For this event you can build your own meal package, choosing from pork ribs from Prairie BBQ / Gator BBQ, poutine from The Fry Guys / UnRoutine Poutine, mac & cheese from REEL Mac and Cheese, and Coca Cola bottled drinks.

For example: A Classic Cookout meal for 2 people would include 1 rack of ribs, 1 side dish, and 2 drinks, or you can put together a great Family Feast for Four with 2 racks of ribs, 2 sides, and 4 drinks. The choice is yours, but make sure to come hungry!
BONUS: A Taste of the PNE ticket orders include two FREE tickets to the opening day of the 2021 PNE Fair! These will be added to your TicketLeader account at a later date.
Tickets must be purchased for a specific time slot, and are not available for sale on site. Limited tickets are available per time slot per day. The event runs June 27-28 (inclusive) from 11am-3pm and 4-8pm. The car show is not included for the June 27/28 weekend.
Access to the event is off Renfrew St near Gate 6 (north of the Pacific Coliseum).
In accordance with Provincial health guidelines, please limit your vehicle to only your social distancing circle and be considerate of those around you by staying in your vehicle. Food must be taken to go and cannot be consumed on site.
Additional Ticket Information

Tickets must be purchased online for a specific time slot, no onsite sales. No pedestrians or cyclists. Everyone must remain in their vehicle.
Guidelines for a Safe Experience
A Taste of the PNE: CAR-B-Q edition allows you to enjoy ribs and sides from your vehicle with your social distance circle. Here's how it works:
Purchase tickets online, in advance.
To comply with provincial health guidelines, please only travel to the event with your family/household unit, and remain in your vehicle.
Enter the PNE site near Gate 6 (north of the Pacific Coliseum) on Renfrew Street.
After ticket confirmation, proceed as directed through to the PNE Amphitheatre.
Guests will be placed in queue according to rib vendor chosen.
Your ticket will be scanned (through your car window) by a staff member. Please remain in your vehicle.
Drive ahead to each of the pickup locations, showing your order form at each that you have purchased items from (drinks, ribs, poutine, mac and cheese).
Once you have come to a complete stop, food truck staff will bring your order to the pick-up location in front of their unit.
After collect all your items, proceed west towards the 2020 PNE Prize Home. If you wish to purchase Prize Home tickets on-site, 1 person can get out at the Agrodome plaza ticket booth, or you can purchase online any time before Labour Day.
Please don't gather on site. Proceed to the exit and enjoy your food in a safe manner. *Remember to wash or sanitize your hands first.