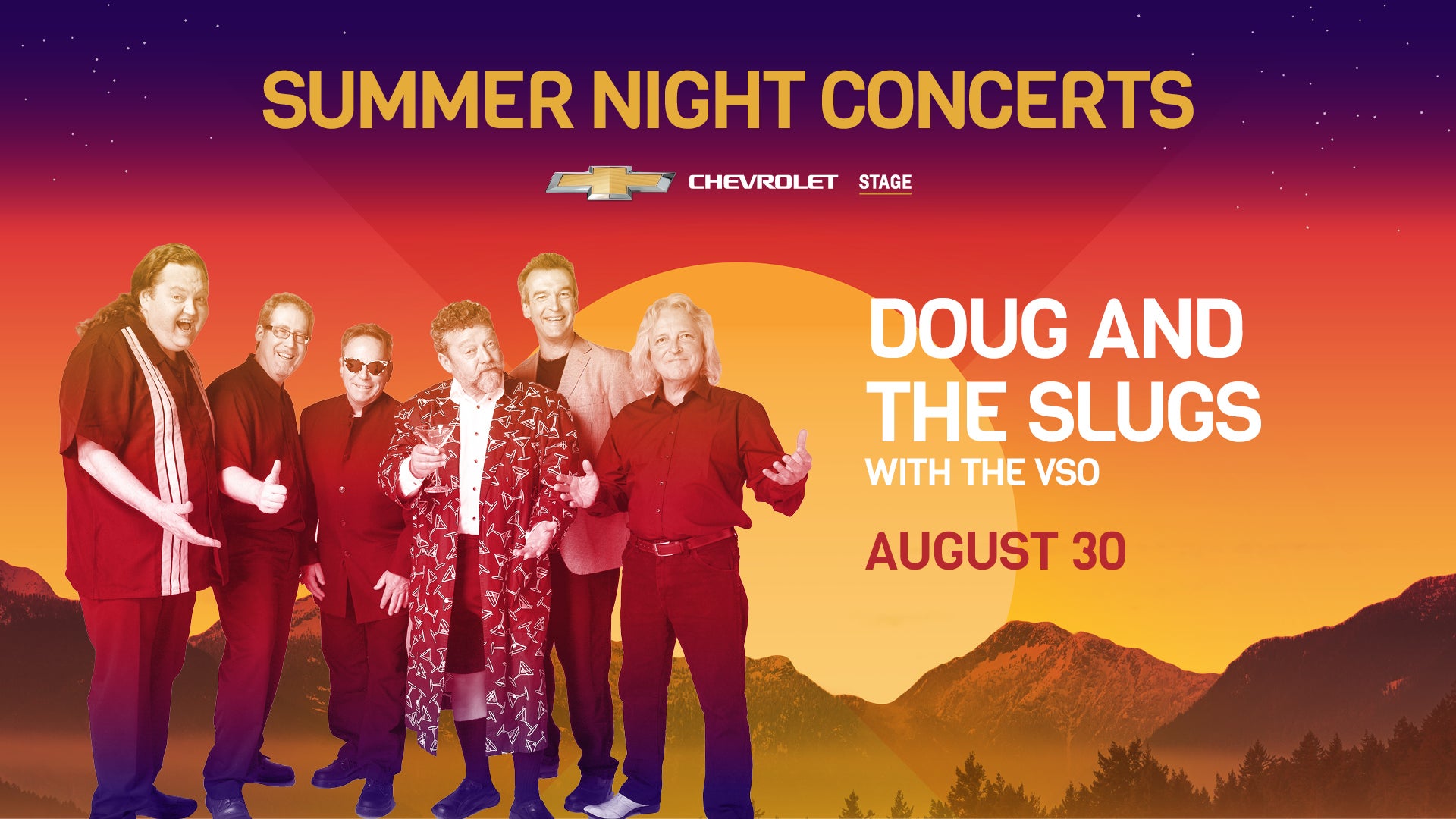 Doug and the Slugs with VSO
Doug and the Slugs with VSO
Event Details
Unquestionably, Doug and the Slugs are one of the most distinctive and entertaining Canadian bands of the last 40 years. Their upbeat musical style, musicianship and offbeat stage antics have made them a staple of the Canadian music scene for decades. Formed in Vancouver in the fall of 1977, The Slugs quickly became the hottest attraction with Canadian Top 40 hits including 'Too Bad', Who Knows How", "Making It Work", "Day by Day" and "Tomcat Prowl".
The Slugs toured relentlessly from New York to the North Pole and produced 7 albums (4 of them certified Gold) proving themselves to be a 'national treasure'. The band had international releases in the US, Europe and Australia. They had underground success and critical acclaim in America, and helped launch the video era with Slug videos among the first getting heavy rotation on MTV, due to their film-like quality and irreverent humour.
Tragically, on October 16, 2004, Canada lost one of its greatest entertainers and songwriters when Doug Bennett passed away. Indeed, the Slugs wondered if they could ever continue without Doug. In 2009 the band auditioned Ted Okos, a journeyman rocker for many years with the band 'Nick Danger'. Ted and the original slugs, John Burton, Simon Kendall, Steve Bosley, Wally Watson and Richard Baker, hit it off immediately. Ted's high energy delivery and warm, slightly irreverent stage antics, plus his keen understanding of the essence of the songs, made him the obvious choice for a rebirth of 'Doug and the Slugs'. The 5 original Slugs and Ted have been delighting audiences for the past 14 years.
2022 saw the release of the documentary Doug and the Slugs and Me, a nostalgia-packed ride down the backroads of Canadian rock history, featuring music videos, rare performance footage, photos and home movies.
NOW THEY ARE BACK!!! Don't miss the chance to see and hear The Slugs relive their glory when they perform at the PNE with the VSO!
Founded in 1919, the Grammy and Juno-award winning Vancouver Symphony Orchestra (VSO ) is the third largest orchestra in Canada, the largest arts organization in Western Canada, and one of the few orchestras in the world to have its own music school.
Led by Music Director Otto Tausk since 2018, the VSO performs more than 150 concerts each year, throughout Vancouver and the province of British Columbia, reaching over 270,000 people annually. On tour the VSO has performed in the United States, China, Korea and across Canada.
The orchestra presents passionate, high-quality performances of classical, popular and culturally diverse music, creating meaningful engagement with audiences of all ages and backgrounds.
https://www.vancouversymphony.ca/
Additional Ticket Information
Reserved tickets are required for all shows.
PNE Fair admission also required.