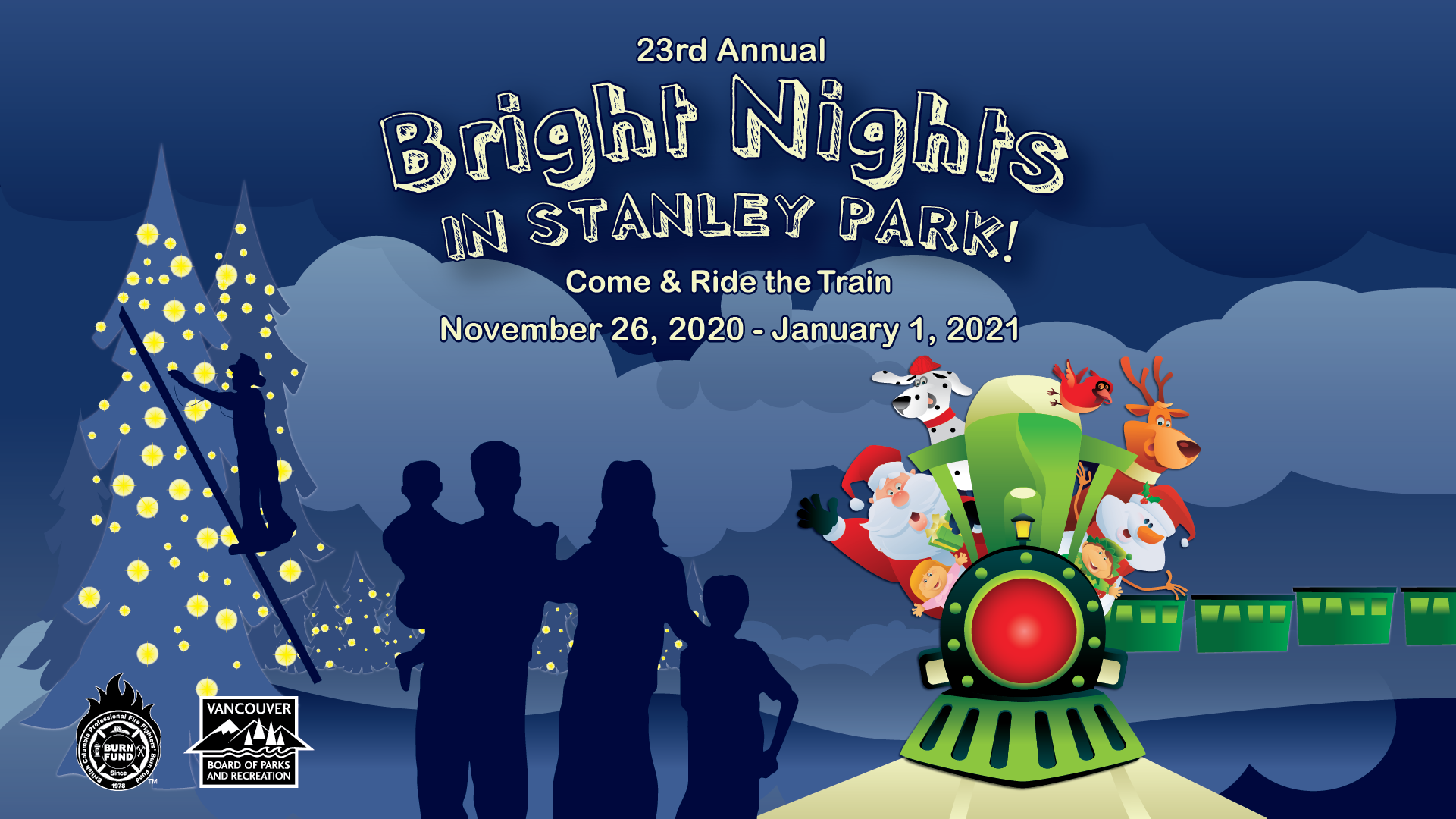 Bright Nights Christmas Train in Stanley Park
All dates are now cancelled
Bright Nights Christmas Train in Stanley Park
All dates are now cancelled
Event Details
Please note that the Bright Nights opening night will be postponed until December 8 due to current Provincial Health Office orders.
All dates November 26 through December 7 have been cancelled and tickets for those dates will be refunded.
--
The Bright Nights train will once again be sounding its whistle and chugging through the sparkling magically-lit forest of Stanley Park this Christmas. Kids of all ages will be singing along to their favourite carols as they take in the whimsical displays along their ride.
We're excited to welcome you back to a nostalgic and much loved family event to help create a bright Christmas memory in a very challenging time. We have focused our efforts on making sure the train will be a fun, happy and safe experience for all. The experience will be a bit different this year… there will be no plaza lights and Santa won't be visiting. All the decorating efforts will be concentrated on the train ride itself…so all those same memories of riding the train through countless twinkling lights will still be there!
Please stop and say hi to our fire fighter volunteers who will be out in support of the BC Professional Fire Fighters' Burn Fund despite taking the year off from their traditional set-up. They'll be meeting and greeting from a safe distance and collecting donations on behalf of the Burn Fund to benefit burn survivors and their families.
KNOW BEFORE YOU GO
Safety protocols:
Masks are mandatory at all times onsite and on board the train. Children 2 & under are exempted. Disposable masks will be provided to those guests who have forgotten to bring their own.
Please do not attend this event if you are unwell. Contact TicketLeader to obtain a refund for your ticket(s).
Please arrive at front gate 30 minutes before your scheduled ride to join the queue for your train. Only ticketholders for the next train will be permitted to join the queue. Be prepared to enter the site once the preceding train has boarded and the station is clear. All ticketholders for a specific train enter the site as a group. Latecomers may not be accommodated due to capacity restrictions.
Any visitors without valid tickets will not be admitted. Tickets are not available on site.
There is a one way flow through the site, separate entrance and exits and no re-entry privileges. Please follow the directional arrows through the site to the train station.
Have your pre-printed tickets or the PDFs on your mobile devices open to the barcodes for contactless scanning. Our staff cannot assist with locating the tickets on your devices.
All benches are separated by Plexiglas. Passengers are required to sanitize their hands prior to boarding. Hand sanitizer stations are located at the front entrance and train station.
Passengers in wheelchairs and companion(s) will be boarded first.
.

Due to physical distancing requirements, we will be boarding only one guest in a wheelchair plus a companion per train.

Visitors requiring the use of the wheelchair car must contact TicketLeader at 604-252-3700 or email

[email protected]

to purchase tickets and to book a complimentary ticket for their attendants.

Children 2 & under must ride with parents/guardians. Strollers should be left on the platform by the carriage in which you are seated.
We recommend visiting with your household bubble of 6 people or less. The maximum number of tickets you can purchase per order is 6.
Safety controls do not permit group seating. Families may find adjacent benches, but will not necessarily be seated together. We ask that once passengers are seated, that they do not switch seats.
Portable toilets will be located at the front entrance by the waiting area and at the train station. Washrooms in the picnic area by the back exit are open during the event.
Dogs will not be permitted on site with the exception of certified service animals wearing their identifying vests.
Storms/Weather closures:
If there is a storm warning or heavy snowfall on the day of your scheduled ride, contact TicketLeader for event updates.
If there is a closure, TicketLeader will provide refunds to all ticketholders booked for that evening's trains. Exchanges will not be provided due to limited capacity. Contact [email protected] or call: 604-252-3700.
Parking
The NE corner of the Railway lot is designated as the waiting area for ticketholders queueing for the next train and will be closed to vehicle traffic.
The rest of the lot is open for pay parking.
Pay parking is also available at the Works Yard lot, located on the west side of Pipeline Road, directly across from the train.
Overflow user-pay parking is also available at the Information Booth and the Aquarium.