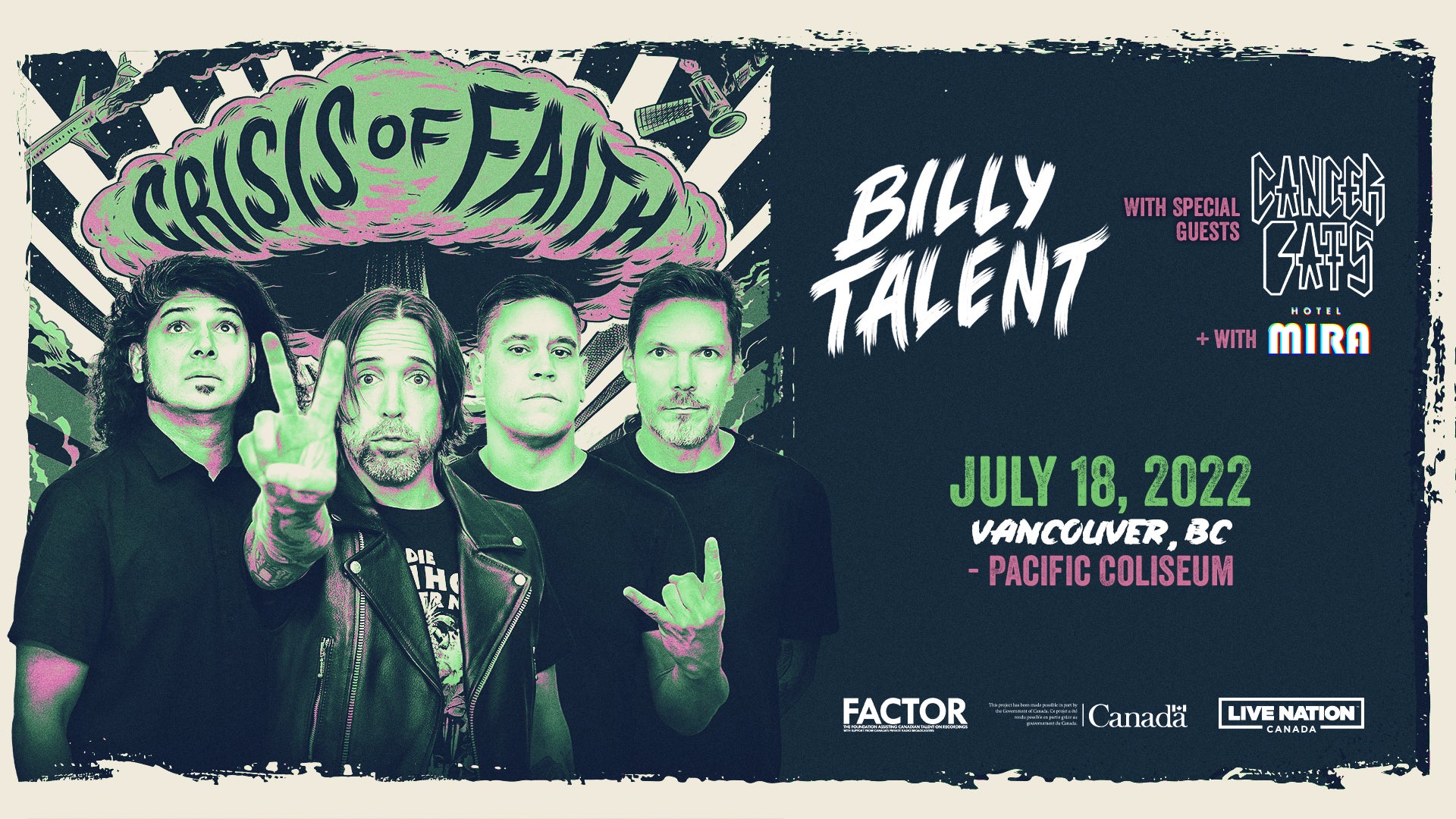 Billy Talent
very special guest CANCER BATS, HOTEL MIRA
Billy Talent
very special guest CANCER BATS, HOTEL MIRA
Event Details
This concert is now a seated general admission show with a limited number of floor seats available. Those guests wanting floor seats should arrive early at the main doors (not the box office) to receive floor seat wristbands. Only guests with wristbands will be allowed on the floor.
The upcoming tour will come on the heels of the release of Billy Talent's forthcoming album CRISIS OF FAITH. The ten track LP was produced entirely by the band's guitarist and main songwriter, Juno-nominated producer Ian D'Sa, in the band's Toronto studio and was mixed by the legendary Chris Lord-Alge. The album is set for release on January 21, 2022. It has been heralded by the #1 hit singles "Reckless Paradise" and "I Beg to Differ (This Will Get Better)," along with the anthemic prog-inspired "Forgiveness I + II." Billy Talent's just-released single, "End of Me," featuring Rivers Cuomo of Weezer, is the band's fastest ever entry into the Rock Top 10, arriving there just 10 days after the song's release.
Additional Ticket Information
HEALTH ADVISORY
In the best interest of fans and staff, the PNE will continue to monitor local COVID-19 trends and meet or exceed protocols mandated by local governments. By purchasing tickets to this event, you agree to abide by the health and safety measures in effect at the time of the event, which may include, but not be limited to, wearing masks, providing proof of vaccination status and/or providing proof of negative COVID-19 test. Please note these confirmations will apply to all members of your party before they are allowed to enter the event and to any users of the tickets purchased by you. Check back often for updates to your event as guidelines are subject to change.